Chesterfield Yarn Mills attended the U.S. Commercial Services– Trade Americas Business Opportunities in Central America Conference on August 18-23rd at The Wharf Hotel in Washington, D.C. This conference offered businesses the opportunity to learn about expanding into Central American markets including Honduras, Belize, and others.
Matthew Neisler of Chesterfield Yarn took part in one-on-one consultations with U.S. and FCS Commercial Officers and Department of State Economic/Commercial Officers with expertise in commercial markets throughout the region. Trade Americas provided Chesterfield with access to information on strategies for expanding its business across the Central American region through networking and various meetings alongside other companies striving to expand their businesses beyond the U.S.  Specific products that Chesterfield presented included yarn fibers created through a partnership with REPREVE® recycled performance fiber by Unifi, a leading manufacturer of sustainable innovations.
U.S. commercial diplomats from 25 countries such as Argentina, Chile and Belize represented themselves and took part in one-on-one meetings, providing Chesterfield the opportunity to narrow down their efforts in the region and select the right markets to approach. Chesterfield took part in an all-day meeting with the US Commercial Department and Foreign Trade Commission.
"I was pleased with the overall results of the conference. Astrid Barnica, Director of the Honduran Manufacturers Association, and Paola Flores of the US Embassy in San Pedro Sula were both of significant assistance. There were many opportunities presented to Chesterfield Yarn Mills that we plan to pursue. I can not thank the US Department of Commerce and Trade Commission enough for putting this together," stated Neisler.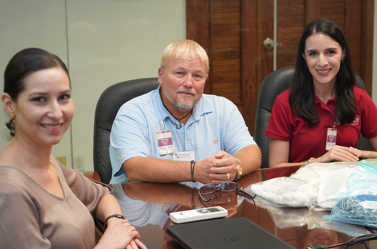 For more information about the Trade Americas Business Opportunities in Central America Conference, visit https://2016.export.gov/tradeamericas/tradeevents/trademissions/centralamerica/.
###
Chesterfield Yarn Mills specializes in the production of a variety of polyester, acrylic and rayon yarns. Established in 1958, Chesterfield continues to provide customers with a top-quality product and legendary customer service. Learn more about Chesterfield Yarn Mills at http://chesterfieldwraps.com, or call 843-680-0565